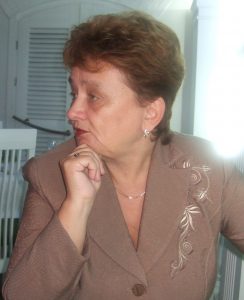 Main handling editor of the scientific journal Humanitarian Vector  (Gumanitarnyi Vektor). Philosophical sciences
Dean of the Faculty of Social Science, Transbaikal State University.  Chairperson of the Dissertation Council, Transbaikal State University.
ORCID: 0000-0002-4068-9709
e-mail: m-liga@inbox.ru
 Education and Degrees
Doctor of sciences (Social Science), specialty 22.00.01 – theory,  methodology and history of social science (2006)
Candidate of Sciences (Philosophy): Herzen Leningrad State Pedagogical  Institute (1982)
Diploma: Chernyshevsky Chita State Pedagogical Institute, teacher of history  and social studies (1975)
Academic Title: Associate Professor
Research Interests:
Sociology of quality of life
Sociology of management
Methodology of social knowledge
Methodology of scientific work
Research supervision
Supervised ten Candidate dissertations, two Doctor of Sciences dissertations.
Publications:
1.     Лига М. Б., Щеткина И. А. Качество жизни: организационно-управленческий аспект. Новосибирск, «НАУКА», 2011.;
2.     Лига М. Б., Гуслякова, С. И. Григорьев, Г. В. Говорухина. Качество жизни и социального обслуживания населения. Монография, Горно-Алтайск: РИО ГАГУ, 2011;
3.     Лига М. Б., Павлова Н. С., Щеткина И. А. Социальная безопасность молодежи: организационно – управленческое обеспечение. – Москва, 2012;
4.     Лига М. Б., Цикалюк Е. В. Социальное здоровье  студенческой молодежи: состояние и механизмы формирования. – М.: – РУСАКИ, 2103;
5.     Лига М. Б., Захарова Е. Ю., Щеткина И. А.,Гуслякова Л. Г., Цикалюк Е.В., Крылатов С.А. Модели качества жизни.  М. – РУСАКИ,2013; Marina Liga, Tatiana Voronchenko, Yelena Zakharova EDUCATIONAL POLICIES FOR PROVIDING THE QUALITY OF LIFE. CBUInternationalConferenceProceeding; Лига М. Б., Щеткина И.А., Томских М.С. Качество жизни и межнациональные отношения (на примере исследований в Забайкальском крае. Стандарты и качество, № 4(934), 2015;
6.     Лига М.Б., Шапиева А.В. Проблемы кадрового обеспечения сферы государственной молодежной политики (на материалах Забайкальского края).   Ученые записки ЗабГГПУ. Серия «Философия, культурология, социология, социальная работа», – 2015. – №4 (39). –Чита: ЗабГГПУ.
ПЕРСОНАЛЬНЫЙ СЧЕТЧИК SCIENCE INDEX