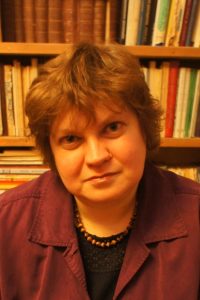 Doctor of Philology, Associate Professor, leading researcher of literary criticism department, the Institute of Philology, Siberian Branch, Russian Academy of Sciences;  Professor of Novosibirsk State Pedagogical University (Novosibirsk, Russia)
Research interests
Silver Age of Russian poetry, space of a literary text, exotic motives in modernism culture, literature and painting of Russian emigration, culture of Siberian avant-garde.
Research activity
Yu. Kulikova is the author of more than 100 articles about Silver Age poetry and two monographs "Lyrical plots in verses and prose of the XXth Century" (2006, co-author E.V. Kapinos), "Space and its dynamic aspect in lyrics of acmeists" (2011), "Distant heaven" of Nikolay Gumilev: Poetry. Prose. Translations" (2015), a permanent participant of the international scientific conferences (USA, France, Spain, Poland, etc.).
An extensive range of works by E. Yu. Kulikova is devoted to the work of V. Khodasevich, N. Gumilyov, A. Akhmatova, O. Mandelstam; etc.) on the lyrics of Russian poets of the Silver Age.
e-mail: kulis@mail.ru
https://orcid.org/0000-0003-0695-7447
ПЕРСОНАЛЬНЫЙ СЧЕТЧИК SCIENCE INDEX