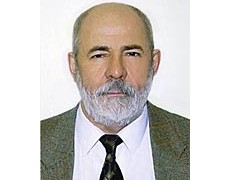 Professor of the Department of History, Transbaikal State University (Chita, Russia)
Author and manager of the project "Encyclopedia of Transbaikalia"
Head of the Laboratory of Paleoecology
Head of Chikoy archaeological expedition
Supervisor of scientific school in archeology
Representative of Transbaikal branch of Academy of the humanities (since 1996)
Chair of the Assembly of the people of Transbaikalia (since 2002)
Academic Title: Professor
Education and Degrees
Doctor of Sciences, History (1996)
Candidate of Sciences, History (1979)
Diploma: Chernyshevsky Chita State Pedagogical Institute (1969)
Research Interests
History of Siberian Science
Stone Age in Transbaikalia
Disciplines taught
Archeology
Archeology of Transbaikalia
Discoverers of Siberia
History and the Present
Academic Awards
Academician of the Academy of the Humanities (1996)
Honored Worker of Higher School of the Russian Federation (1998)
Honourable citizen of Chita (2001)
Honourable citizen of Krasny Chikoy (2003)
The Order of Honor (2009)
Medal of the Order of Merit for the Chita Region" (2000)
Medal of the Order of Merit for the City (Chita, 1998).
Projects
Organizer of Russian and international conferences
Organizer and author of scientific public and patriotic program "150th Anniversary of Zabaikalskaya Oblast and the City of Chita" and "350th Anniversary of Transbaikalia"
Academic Councils and Research Management
Supervisor of Postgraduate course in archeology (070006) and Russian history (070002)
Supervisor of six Candidate dissertations on archeology, Russian history, history of science
Member of Dissertation Councils in the Buryat State University (Ulan-Ude) and the integrated Dissertation Councils at the Institute of archeology, history and ethnography of the people of the Far East (Vladivostok)
Author of scientific publications on archeology and history of science
Mainpublications
Геология и культура древних поселений Западного Забайкалья. Новосибирск: Наука, 1982. 163 с. (co-authorD.B. Bazarov)
Каменный век восточного региона Забайкальского края. Улан-Удэ-Чита: БНЦ ЧГПИ, 1994. 264 с.
Оракулы веков. Этюды об исследователях Сибири. Новосибирск. Изд-во СО РАН, 2002. 105 с.
Провинциальнаяархеология. Чита: ЗабГГУ, 2008. 298 с.
The alluvial history and sedimentary record of the Priiskovoe Site and its place in the paleolithic prehistory of Siberia // Geoarcheology: An international Journal, Vol. 26, No. 5, p. 616-648 (2011).
ПЕРСОНАЛЬНЫЙ СЧЕТЧИК SCIENCE INDEX