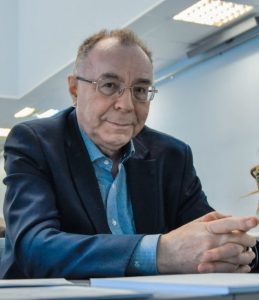 Victor Alexandrovich Sidorov
Viktor A. Sidorov, Doctor of Philosophy, Professor, Professor of the Department of Theory of Journalism and Mass Communications of St. Petersburg State University; Honorary Worker of Higher Professional Education of the Russian Federation; Laureate of the International Media Research Competition "NUMMI-2014".
Education: Leningrad State University named after
A. A. Zhdanov, journalist, 1978
Candidate of Sociological Sciences, M., 1992: The impact of mass communications on the spiritual culture of high school students (experience of historical and sociological analysis of modern radio broadcasting);
Doctor of Philosophical Sciences, M., 1995: Political culture of mass media.
Research interests: axiology of journalism, political culture of a journalist, sociology of journalism, political journalism, forecast in journalism, communicative aggression, deviant behavior in the media environment.
Scientific activity:
12 PhD theses and 3 doctoral theses;
participation in grants:
RFBR. No. 20-011-31069\20, Aggression and phobias in the media behavior of network communities. Director;
A. Mickiewicz University. Poland. Erasmus+ Academic Mobility Grant: Lectures on the axiology of journalism (2018);
since 1998, constant participation in international (Italy, Poland, Hungary, Finland, Ukraine) and domestic (St. Petersburg, Moscow, Tomsk, Kazan, Novgorod, Nizhny Novgorod) scientific conferences, organization and holding of panel discussions, seminars, round tables;
member of the Dissertation Council for the defense of candidate and doctoral dissertations in the specialty 10.01.10 – Journalism (until 2017);
Contact information
e-mail: v.sidorov@spbu.ru
https://orcid.org/0000-0002-8819-6815
Navigating through records
Authors: 1309 Articles: 1342
Views per day: 0 Trans-
Baikal State University
ПЕРСОНАЛЬНЫЙ СЧЕТЧИК SCIENCE INDEX